Canvas (Basic)

Metal (Premium)
Written by
an anonymous user
on
Customer Reviews
based on reviews
There are no customer reviews yet.
Thank you for submitting your review. Once it is approved, your review will show up in the list of reviews.
Submitting your review failed. Please try again.
"Steve Jobs"
The text around the sides depict the words from a famous speech given by Steve Jobs in a 1997 apple commercial. Written by Rob Siltanen this is one of the most relatable and inspiring speeches for entrepreneurs.
"Here's to the crazy ones. The misfits. The rebels. The troublemakers. The round pegs in the square holes. The ones who see things differently. They're not fond of rules. And they have no respect for the status quo. You can quote them, disagree with them, glorify or vilify them. About the only thing you can't do is ignore them. Because they change things. They push the human race forward. And while some may see them as the crazy ones, we see genius. Because the people who are crazy enough to think they can change the world, are the ones who do."
Stretched Cotton Canvas
What is it?
A perfect addition to every workspace! | Turn empty wall space into motivation!
Affordable High-Quality Does Not Have to Be a Stretch | High-quality, Affordable Canvas Prints.
Innovative Product Design
Add a level of sophistication to your walls with the highest quality canvas. Our Standard Cotton Canvas is built with a solid, supported face which prevents sagging or warping over time. We pride ourselves on quality. We founded this company to provide affordable, high-quality canvases to other aspiring entrepreneurs.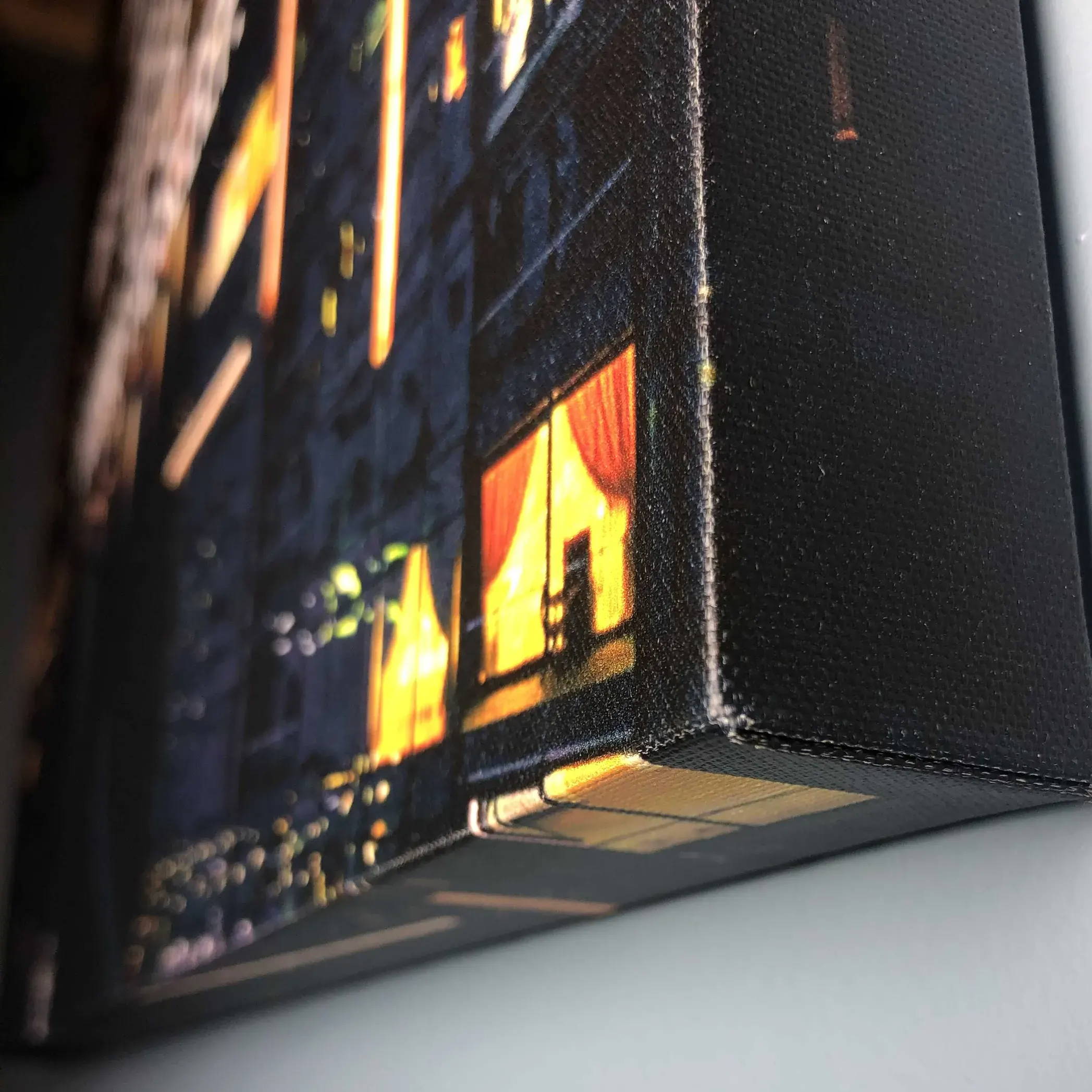 We ensure your canvas will always look as tight and flat as the day it was made. A hanging hook is standard on every canvas, we recommend using a nail that does not come far from the wall to allow the canvas to hang flat.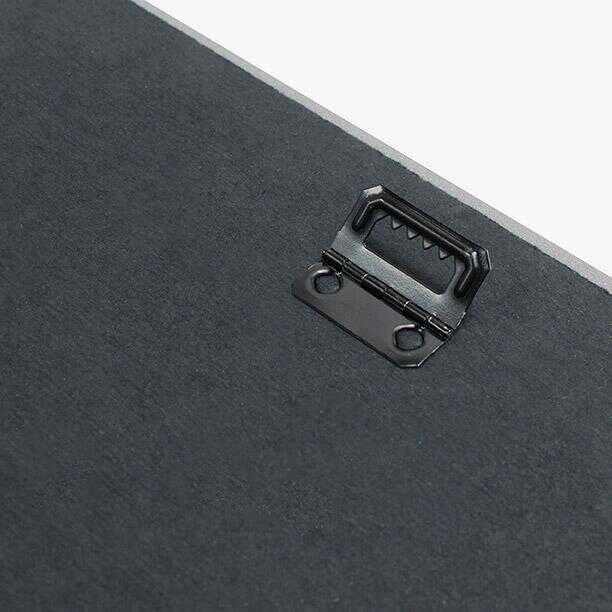 The Details:
Solid Front and Back | Artist Grade Canvas | Size Range: 8"x10" to 24"x36" | 1.25" Depth | Made in U.S.A.
Printed to Last
Durability, image clarity and color accuracy are our top priority. We use only archival inks designed to prevent fading and we preserve as much fine detail as possible with no over-saturation or color shifting.
Museum Quality Canvas!
Our canvas is a certified museum-grade, designed to withstand the test of time. Our canvas is also OBA (Optical Brightener Additive) free to ensure quality and accuracy. Our canvases always have high image quality and detail, plus our dense wooden frame provides strength that will last a lifetime.
Motivation
Staying motivated is essential in any entrepreneur's life. No matter what you're trying to create, you have to keep your motivation high.
Modern Design
The 5 am Motivational Art canvas depicts the words: "5 am: The Hour When Legends Are Either Waking Up Or Going To Sleep" in white, set against a dark city-like background for an urban contrast. It's the perfect addition to any modern home - in your bedroom, office, workspace, or common areas.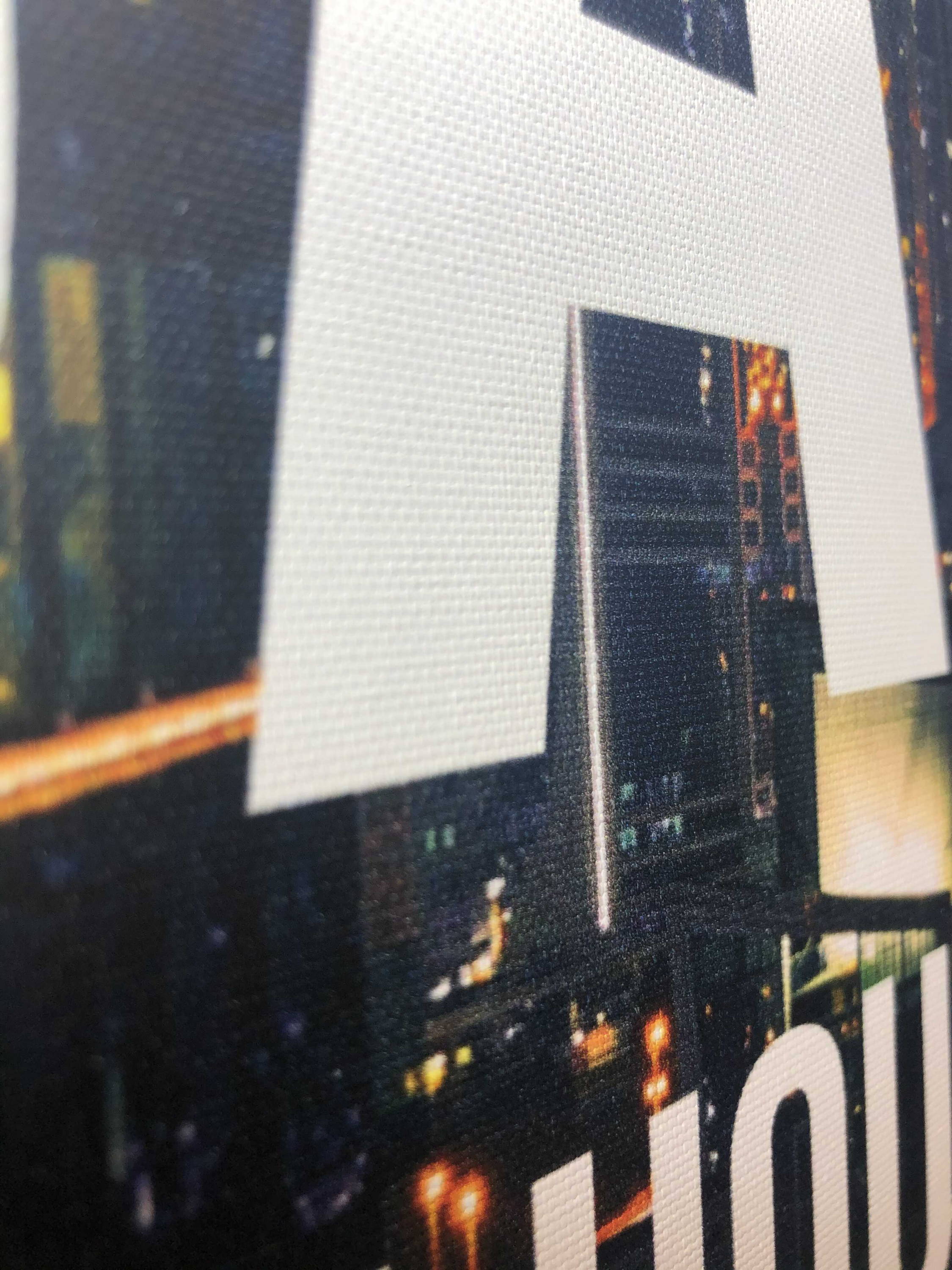 Brushed Aluminum
The Product
Printed directly on Brushed Aluminum, the natural luminosity of its sheer gloss finish will give your art an additional touch of the dramatic.
The finished floating-mount frame is sure to add a clear sense of depth to your art.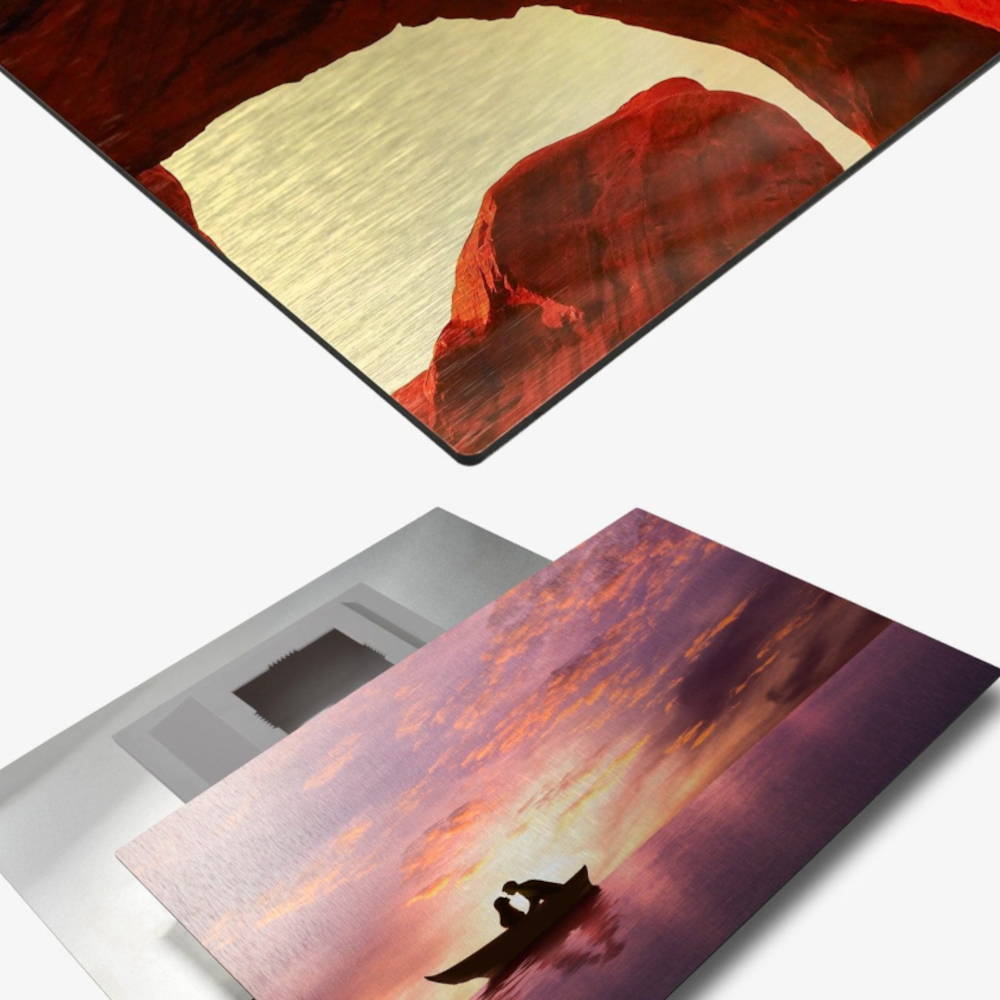 The Details
1 3/8" Depth | Printed on 3mm Brushed Aluminum Panels | Modern Mounting Frame That Gives Your Art an Additional 3D Look | Protective Overcoat | Light Weight | Ready to Display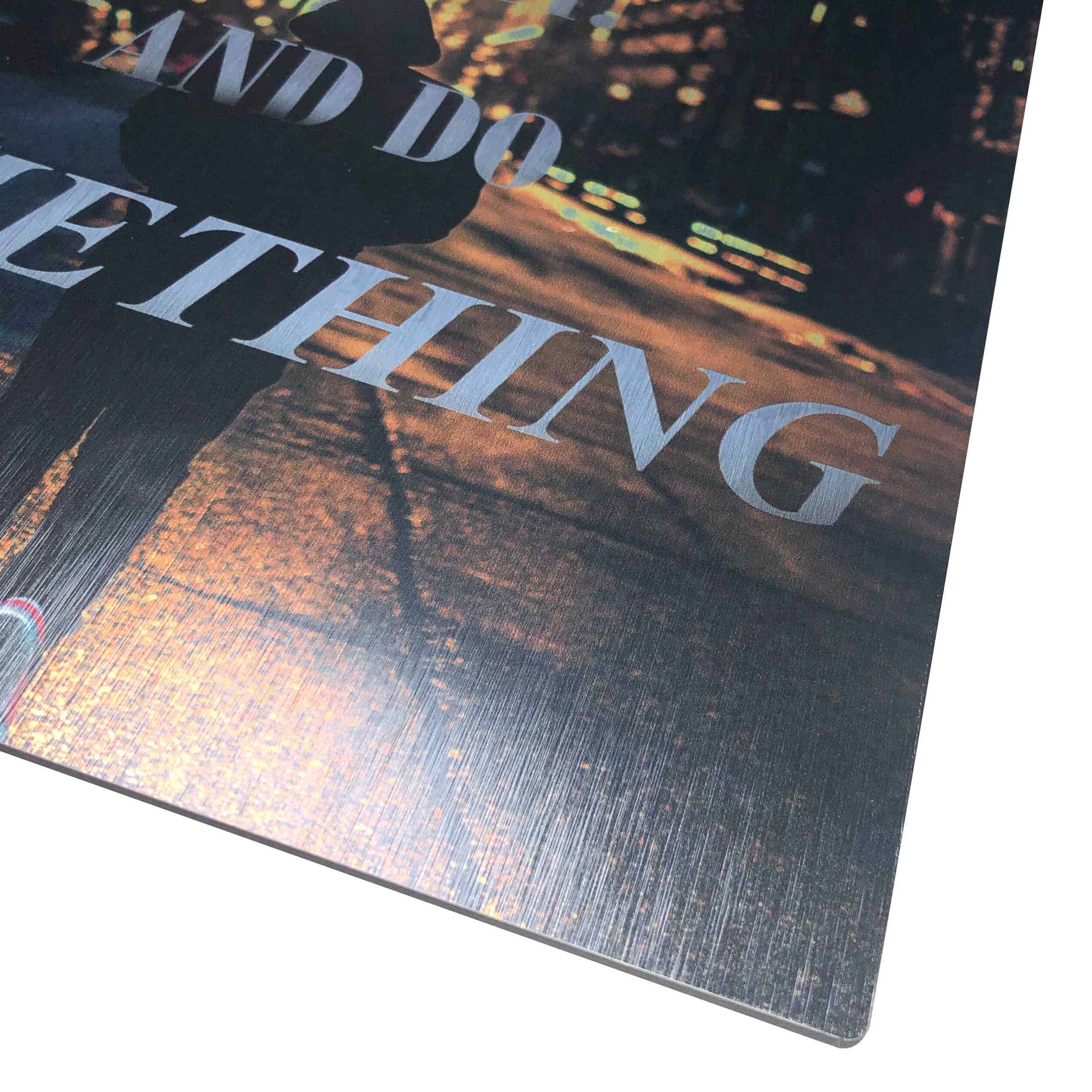 The Bottom Line
Brushed Aluminum allows your art to go beyond the norm of wall decor, yet remains an affordable option.
High Gloss Aluminum - Premium
The Product
We call High Gloss Prints "jaw-droppers" for good reason. Printed on high-gloss metal with rounded edges, they make colors brightly pop and bring out the deepest contrasts in black and white images. Perfect for a more luxurious look to your art decor. Plus, they come ready to hang with a pre-installed float mount frame on the back, so all you have to do is pop a nail in the wall.
Exceptional Detail, Stunningly Affordable
Weatherproof, Waterproof, Life proof
Each Metal Print has an ultra-hard protective coating that is easy to clean and designed to handle whatever life throws at it. A much smoother finish than the Brushed Aluminum. Just buff out any scuffs with a microfiber cloth and your Metal Print will glisten and gleam like the day it was made. We infuse dyes directly into our high-gloss metal, which creates a unique luminescent effect and true-to-life image clarity.
Floating frame for 3D Effect
Unlike most Metal Prints, ours come standard with a recessed float mount pre-installed on the back, so it is ready to display, right out of the box. Larger Metal Prints come with an inset float mount frame with a nail groove, while smaller prints (8"x10") come with a float mount, notched block hanger. Big or small, each print has the appearance of magically floating ½" off the wall.
Modern and Professional
Metal is the perfect addition to your modern decor. Your art will pop with crystal clear accuracy and an unprecedented life-like appearance. Have guests? Clients? This print will show them your modern style and professionalism, giving you the best first impression.
"Steve Jobs"
The text around the sides depict the words from a famous speech given by Steve Jobs in a 1997 apple commercial. Written by Rob Siltanen this is one of the most relatable and inspiring speeches for entrepreneurs.
"Here's to the crazy ones. The misfits. The rebels. The troublemakers. The round pegs in the square holes. The ones who see things differently. They're not fond of rules. And they have no respect for the status quo. You can quote them, disagree with them, glorify or vilify them. About the only thing you can't do is ignore them. Because they change things. They push the human race forward. And while some may see them as the crazy ones, we see genius. Because the people who are crazy enough to think they can change the world, are the ones who do."